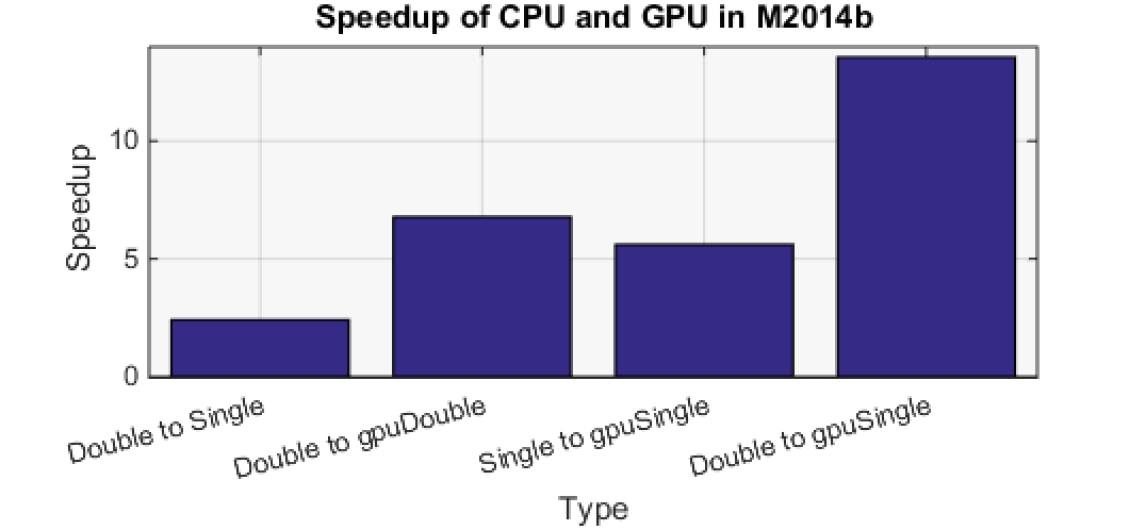 Matlab has incorporated GPU processing on the parallel computing toolbox and you can create GPU array objects using the gpuArray(...) function in MATLAB. I created a brief script to compare  matrix multiply of a 2048 x 2048 matrix against a vector. Ordinarily, the CPU operations see reasonable speedup (~2x) from moving from double to single precision values. However, moving to the GPU implementation results in a speedup of  6.8x for Double and  5.6x for Single! This means that if you can take a matrix-vector multiply that is double precision and convert it to single precision GPU version, you may see  a gain of nearly 14x.
The following we generated in Matlab R2014b on an i7-4770 3.5 Ghz CPU  (8 CPUs) with 16GB Ram and a Geforce GTX 750.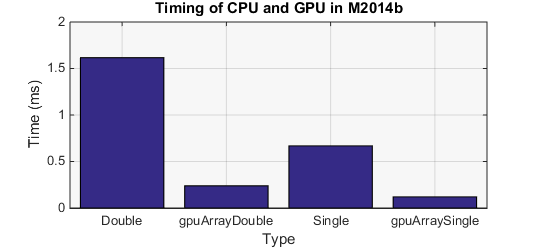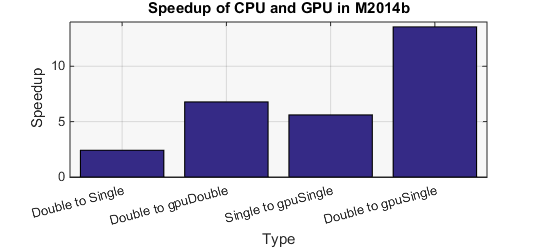 The next step is to evaluate speed of the gpuArray on a basic L1 Optimization set---l1 magic.
The code used to generate this data is as follows:


allTypes = {'Double', 'gpuArrayDouble', 'Single', 'gpuArraySingle'};
allTimes = nan(length(allTypes),1);

n = 2048;       % size of operation for Ax
num_mc = 2^10;  % number monte carlo runs to compute time average of runs

randn('seed', 1982);
Am = randn(n,n);
xm = randn(n,1);      

for ind_type = 1:length(allTypes)
   
    myType = allTypes{ind_type};
     
    switch lower(myType)
        case 'double'
            A = double(Am);
            x = double(xm);
        case 'single'
            A = single(Am);
            x = single(xm);
        case 'gpuarraydouble'
            A = gpuArray(Am);
            x = gpuArray(xm);
        case 'gpuarraysingle'
            A = gpuArray(single(Am));
            x = gpuArray(single(xm));
        otherwise
            error('Unknown type');            
    end    
    
    tic
    for ind_mc = 1:num_mc
        y = A*x;
    end
    allTimes(ind_type) =  toc/num_mc;
    
end

%% Display the results
figure(34);
clf;
bar(allTimes*1000);
set(gca, 'xticklabel', allTypes, 'color', [1 1 1]*.97);
title(['Timing of CPU and GPU in M' version('-release')]);
xlabel('Type');
ylabel('Time (ms)');
grid on

%%
figure(35);
clf;
speedupLabels = {('Double to Single') , ...
                 ('Double to gpuDouble'), ...
                 ('Single to gpuSingle'), ...
                 'Double to gpuSingle'};
bar([allTimes(1)/allTimes(3), allTimes(1)/allTimes(2),  ...
    allTimes(3)/allTimes(4), allTimes(1)/allTimes(4)]);
set(gca, 'xticklabelrotation', 15, 'xticklabel', speedupLabels, 'color', [1 1 1]*.97);
title(['Speedup of CPU and GPU in M' version('-release')]);
xlabel('Type');
ylabel('Speedup');
grid on