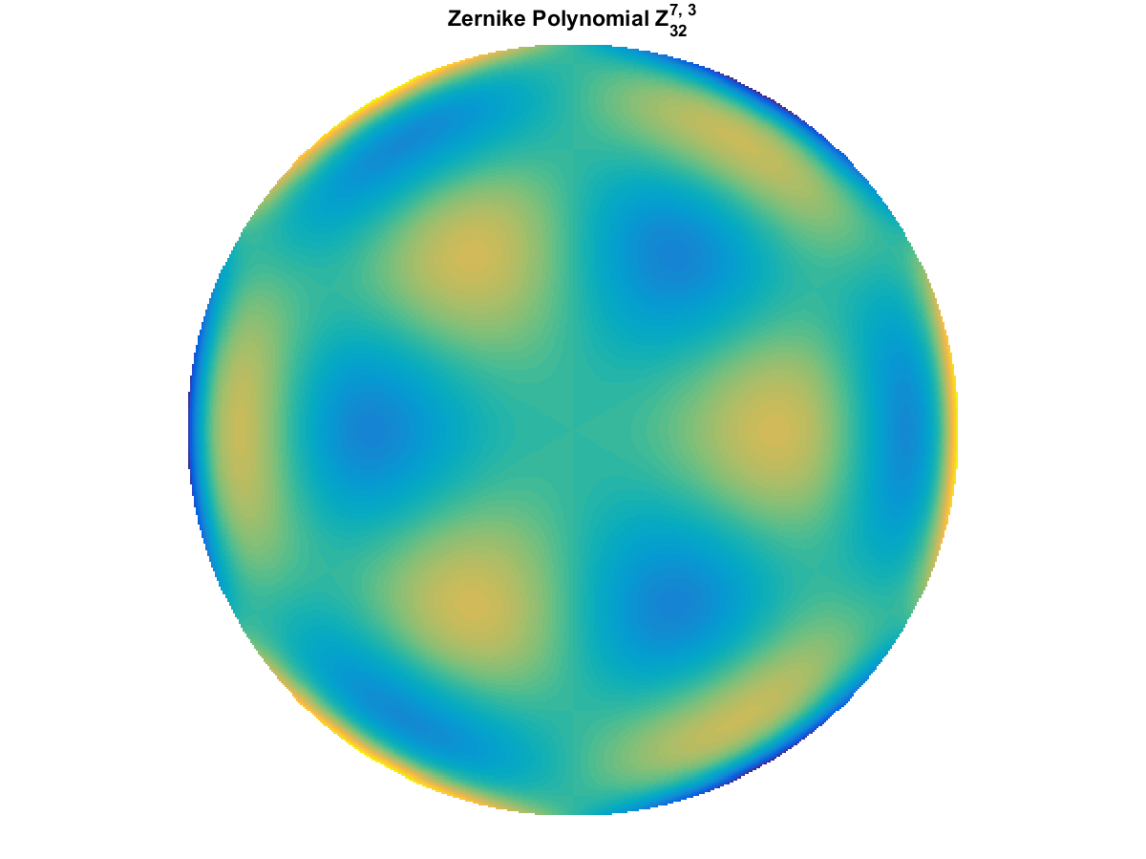 A quick implementation of of Zernike polynomials for modeling wavefront aberrations to to optical turbulence. Equations pulled from  Michael Roggemann's Imaging Through Turbulence.
Zernike polynomials are often used to model wavefront aberrations for various optics problems. The equations are expressed in polar coordinates, so to calculate the image we first convert a grid into polar coordinates using the relation
And then calculate the Zernike Polynomials as

and
if
Where the functions
are called Radial Functions are are calculated as
With Noll normalization. Certain polynomials have names. First is
, know as Piston as is often subtracted to study of single aperture systems. Next,
and
are ramps that are called tilt and cause displacement.
is a centered ring structure known as defocus while
and
are astigmatism,
and
are coma, and
is spherical aberration.
They can be imaged as follows:
All created using the following code:


function result = z_cart(i,m,n, x,y)
%Z_POL result the zernike polynomial specified in cartesian coordinates

% calculate the polar coords of each point and use z_pol:
r = (x.^2 + y.^2).^(1/2);
thta = atan2(y,x);

result = z_pol(i,m,n,r,thta);

end

function result = z_pol(i, m,n, r,t)
%Z_POL result the zernike polynomial specified in polar coordinates

if(m==0)
    result = radial_fun(0,n,r);
else
    if mod(i,2) == 0 % is even
        term2 = cos(m*t);
    else
        term2 = sin(m*t);
    end
    
    result = sqrt(n+1)*radial_fun(m,n,r).*term2;
end

end

function result = radial_fun(m,n,r)
%RADIAL_FUN calculate the radial function values for m,n, and r specified
result = 0;

for s = 0:(n-m)/2
    result = result + (-1)^s *factorial(n-s)/ ...
        (factorial(s)*factorial((n+m)/2 -s)*factorial((n-m)/2-s)) *...
        r.^(n-2*s);
end
end